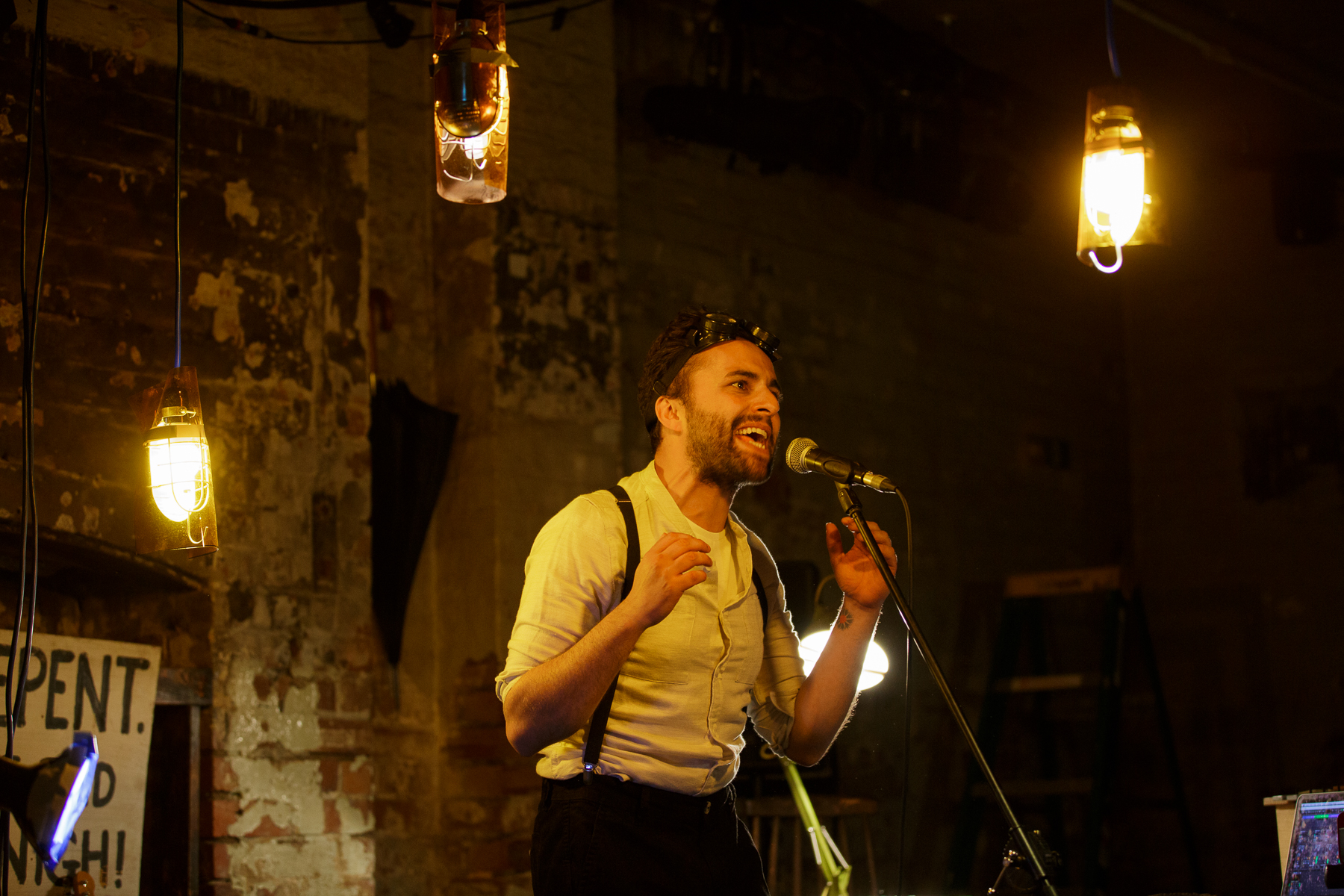 "Dom Coyote knocks my socks off! With a voice like a fallen angel, he takes us to heaven and hell." Emma Rice
Composer | Theatre maker Dom Coyote splices alternative music and theatre together in unusual ways. He calls it Gig-Theatre. Dom is the creator of Songs for the End of the World, which won the Origins award for outstanding achievement at Vault Festival, London, 2016. It went on to tour widely throughout the UK in 2016 and 2017.
His eagerly anticipated new solo show, We Can Time Travel premiered in London at Shoreditch Town Hall in the spring of 2018. A collaboration with Gecko's Rich Rusk and a team of exceptional designers and story makers, We Can Time Travel received critical acclaim and will tour nationally in the autumn, after a special one off performance at Latitude in the summer.
Dom is a long time collaborator with Kneehigh Theatre and has toured extensively with the company over the last ten years, most recently as storyteller/singer in the The Tin Drum in 2017.
Dom is also a well established composer and performer with companies such as The National Theatre, Royal Shakespeare Company, West Yorkshire Playhouse, Cirque Bijou, Battersea Arts Centre, British Council, Manchester Royal Exchange and Art Angel.
Dom started out as a member of  the National Youth Theatre, where he formed Hip-Hop group Arkane, releasing two albums, Civility and Handstyles. Dom continued to develop his interest in Hip-Hop at Dartington College Of Arts (2003 – 2006), studying links between free-styling and shamanism – improvisation continues to play a major part in Dom's work.
In 2006 Dom began working  Kneehigh Theatre as apprentice to the company, performing  in three major shows; Cymbeline (RSC),  A Matter of Life and Death (National Theatre) and Don Jon (RSC, BAC).  He then wrote the original score to a mini-play, Annabelle Lee, which sat inside Punchdrunk's legendary site-specific show, Mask of the Red Death, at Battersea Arts Centre.
In 2009 Battersea Arts Centre awarded Dom with the Jim Marcovitch Bursary which allowed him to develop two of his own projects; The Raun Tree (a dystopian fairytale, told through ten songs) and Folk in a Box (a one-on-one music venue). The Raun Tree was commissioned by West Yorkshire Playhouse in 2011 and toured nationally in 2012. Folk in a Box continues to be installed all over the world, with invitations to Venice Bienale and Sydney Festival as particular highlights.
In 2011/12, Dom began an ongoing relationship with South African artists, composing for SA/UK  contemporary dance piece, the Impending Storm. In 2013 he was Artist in Residence at the Steve Biko Centre on the Eastern Cape, working with artistic director Mandla Mbotwe and the Abelusi group. Dom continues to work with Mandla, merging songwriting with ritual theatre.
In 2013, Dom became co-musical director of integrated Circus Company, Extraordinary Bodies, along with musical collaborator Ted Barnes (Beth Orton, Shane Meadows). The company toured their debut show, Weighting, in the summer of 2015. Their new work, What Am I Worth, is currently in development and will tour nationally and internationally in 2018.
Dom has built a reputation as a distinctive composer and recording artist in his own right, composing original scores for Fragment (North Wall/Iron Shoes 2018) While We're Here, (The Bush, 2017) Quest for Arthur, (National Theatre, 2017) The Borrowers (Sherman Cymru, 2016),  The Storyfishers (National Theatre 2016) RISE (Old Vic 2016), Watership Down (The Watermill, 2016),  Kes (Cast Theatre, 2014), Caucasian Chalk Circle (Unicorn Theatre, 2014/15) Night before Christmas (West Yorkshire Playhouse, 2015) and releasing critically acclaimed album Vena Portae, an Anglo/Swedish collaboration between Dom, Emily Barker and Ruben Engzell (published by Domino).
Dom is represented by United Agents and a full C.V. can be found on their website.